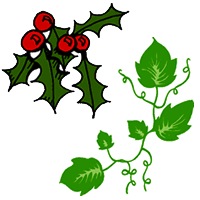 Enjoy time with your family and friends by attending this holiday favorite.  The Holly & the Ivy is a living history play written by award-winning Connecticut playwright Charles Traeger and presented by Flock Theatre and will be performed This Weekend!!
The story takes place in four historic properties downtown. The audience travels back in time via a guided walk to the Hempsted Houses where they experience a Christmas Eve during the colonial period. Additional scenes take place in the Shaw Mansion and the Custom House, with the final scene of a soldier returning from World War II at the Hygienic Art Gallery, where there is a historic restaurant counter. All the stories are real but have been theatrically enhanced. The material includes four different periods covering over 200 years of the city's rich history.
All shows begin at New London Landmarks, 49 Washington Street, New London and will end at the Hygienic Art Gallery on Bank Street. There is municipal parking lot behind Hygienic and it is free on weekends.
There will be coffee, cider, and cookies at Landmarks' office while you wait for your performance to begin.
Click HERE to purchase tickets.