The Transition Team as a whole met Wednesday December 9th, this time at the Submarine Force Library and Museum, located, cleverly, right next to the Sub Base on Crystal Lake Rd. (off of Rt 12) in Groton. And what a very cool place it is, with interesting items on the grounds and an interactive museum just like Fort Trumbull.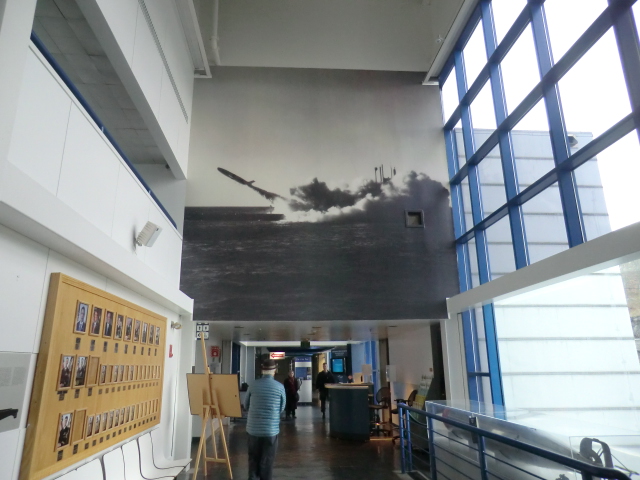 There are all kinds of colorful thingamabobs outside the building.
Here's a vintage sub—how cute!—from the 1950's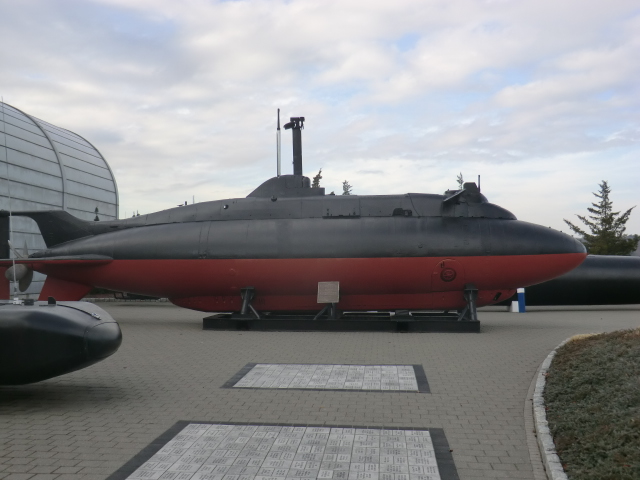 This one looks scary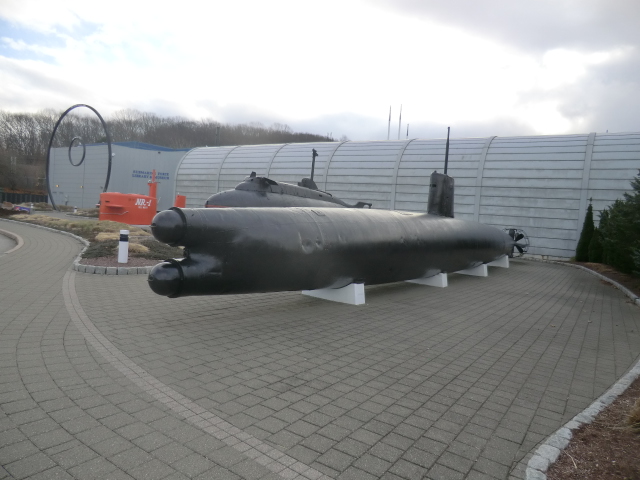 There's the Nautilus, napping at the dock (and nearby will be the future site of the dock of the water taxi—we hope!)
You don't realize how big these things are till you meet them face to face—this conning tower is at the entrance to the museum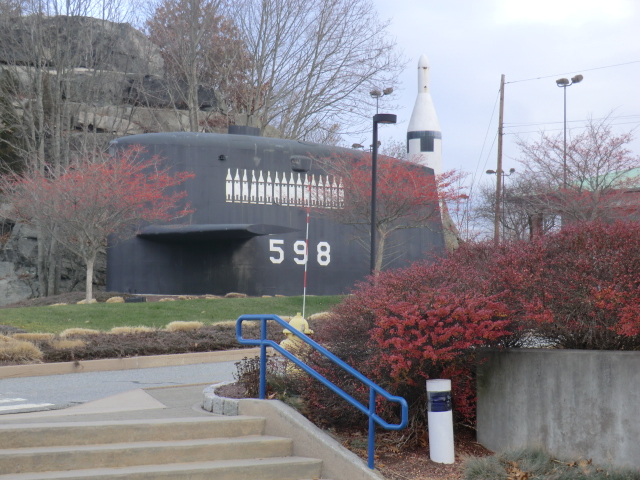 The committees had lots of news to report, but it was kind of sad because this marked the last meeting for our friend and fellow Transition Team member, Captain Carl Lahti, the 50th Commanding officer of the Naval Submarine Base New London (his official title, and yes, the base is on the Groton side of the river). Carl has been really great about keeping us in the loop regarding the status of the plans for future water taxi dock space near the Nautilus, and we learned more at this meeting regarding that. At this point the Navy is waiting for an updated proposal from the CT DEEP (one is in place but it is ten years old so time to update it), which will happen when permits and funds are in place, so the water taxi dock at the Nautilus will not happen in 2016. However, all parties are quite positive about it, and our new liaison, Captain Paul Whitescarver (the 51st Commanding officer of the Naval Submarine Base New London), was also at the meeting and promised to pick up where Capt. Lahti left off.
Water taxi committee Chair Marian Galbraith gave an overview of what's in store for our new boats this winter: first the "de-preservation" of the engines, then a marine survey to tell us what's needed to bring the boats up to USCG passenger-carrying standards, then the development of a budget. Meanwhile, the hulls will be painted before it gets too cold. A big plus is that all the canvas is in good shape—phew! One expensive bullet dodged.
The Team also discussed the continuing hunt for permanent office space for the new 501 c 3, the RFP for water taxi operation, and the bylaws and articles of incorporation for the agency, which will be in place by the end of the year.
The City of Groton is also looking into obtaining insurance so volunteers can work helping get the boats ready. And we couldn't have done any of this without the generosity of our pals at Crocker's Boat Yard on Howard Street in New London where the taxis are being stored free of charge.