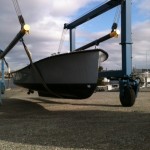 Today we announce an exciting opportunity to become part of the first heritage park in Connecticut by operating what will be one of the park's most unique features – a water taxi to connect anchor sites within the park. See details and Request for Proposals here.
Update: Click here for the transcript from the Q&A session of the January 13th bidders' conference for water taxi service.
We also have a copy of the Information Book that comes with the 40-foot utility boats.