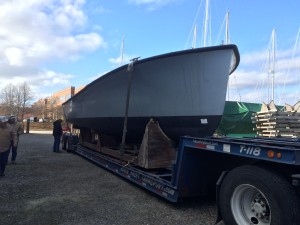 November 30th, 2015 was not a typical Monday for fans of our new park. No, Monday was the day we welcomed two 40-foot US Navy utility boats to Crocker's Boatyard in New London, where they will be overhauled in preparation for new lives as water taxis, carrying visitors to sites in the historic park along the Thames River. Monday marked a giant step forward.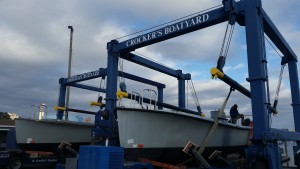 From all accounts, the journey atop two flatbed trailers from New Jersey was uneventful. The first excited update came at 10:39 am as they crossed the Tappan Zee Bridge, having freed themselves of some typical Monday morning traffic in northern New Jersey. The last leg of the trip went smoothly, and they arrived in New London about an hour ahead of schedule. Yes, ahead of schedule!
A small, but very enthusiastic group of greeters met the boats.