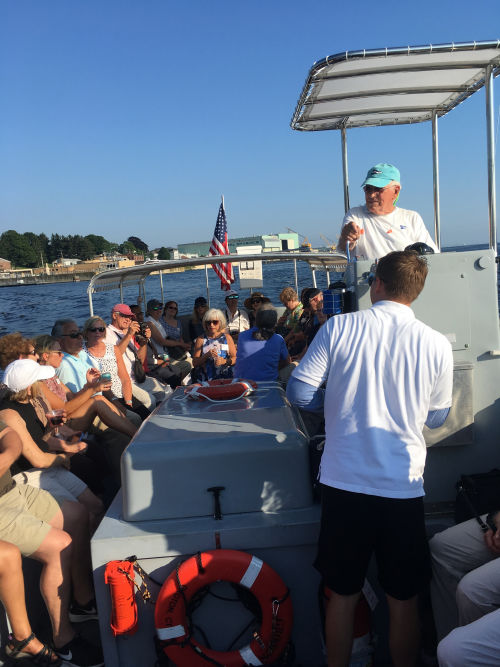 With a second boat in operation, the Park hosted several events on the River this year. We started the season with "Four Centuries in 90 Minutes" tour given by Deborah Donovan, past President of the New London Historical Society.
The Avery-Copp House hosted two sold out tours entitled "Whalers & Traitors & Pirates & More" with talks given by Museum Director Leslie Evans and Groton Town Historian Jim Streeter. The SECT Cultural Coalition developed an evening "Thursdays on the Thames" series featuring local renowned experts giving talks on the water taxi with a specialty beverage on each tour. Topics ranged from Defense to Industry to Eugene O'Neill.
The Hempsted Houses took children and parents on an August morning ride up the Thames as part of their one-week day camp. And, Mitchell College introduced new students to the area in September by making a TRHP water taxi ride an orientation activity complete with a stop at Paul's Pasta.
Our Water Taxis are great for company outings, family events, educational or edu-tainment events, lectures, sunset cruises and more. For more information about chartering our boats contact us at [email protected] .