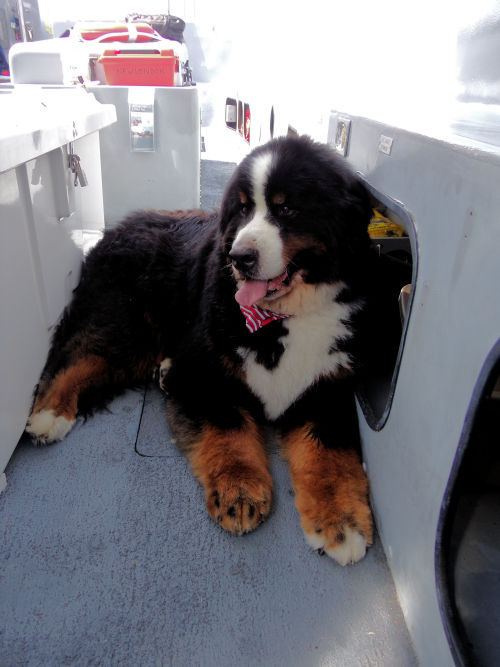 Phantom is a registered therapy dog who belongs to Michelle & Kevin Lake. We recently caught up with Phantom for a Q & A.
We often have dogs riding the water taxi but none of them have a season pass. What prompted you to buy one?
My parents had read about the water taxi last year in The Day and we enjoyed our rides late last season. With the earlier start this year they knew we would be riding more so it made sense.
Is this your first season riding the water taxi?
No, we rode a few times late in the season last year. We were at City Pier one day last year taking my photo in front of the mini-submarine when my parents noticed the taxi was at the pier. The Captain and mate let me get on to check it out. Surprisingly, there was enough room there for me to lay down! Soon my parents were taking me to the Groton dock so we could ride over to New London.
How many rides would you say you went on this year?
Eight or nine times this year. I don't do well in the heat, so they only take me when it's safe for me. They always try to go when there is something going on at City Pier.
Have you had a chance to meet any other four-legged friends while on the boat?
We have met one other dog that was owned by the sister of Morgan, one of the mates on the taxi. There have been lots of nice families riding who give me nice pets and take photos with me.
What would you say to all of your friends about riding the water taxi?
It's great way to get around! There is usually a wonderful breeze on the boat and at the landings.
If you could offer any suggestions what would they be?
Sometimes the gap between the dock and the boat is just a little too much for me. The mates have been great pulling it in as close as possible, but a plank would be ideal to help get me on. We are hoping that the taxi can go to the Nautilus soon, I like it there out on the pier by the submarine.
Phantom, is a Bernese Mountain Dog from the Bern area of Switzerland. Phantom's official AKC Name is Lewa's Soaring to New Heights. He was named after an F-4 Phantom Fighter Jet – a favorite plane of Michelle and Kevin. He's 8 years old. Phantom is a certified Therapy Dog. Some of the places he visits include local nursing and rehabilitation facilities, elementary and middle schools, colleges, group homes, local libraries, and a Drug Detox/Rehabilitation Center.
We're looking forward to seeing Phantom (and, of course, his parents) next season.