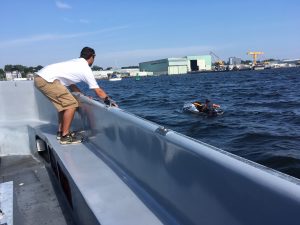 During the Friday, June 30th 5:00 p.m. trip from Fort Trumbull to New London City Pier on the Water Taxi a passenger spotted someone in the water clinging to a disabled jet ski.
The Water Taxi Captain Mark Jalbert altered course to aid the jet skier, contacted the Coast Guard and shielded the jet skier from the outgoing Cross Sound Ferry. First mate Paul Bossardet, threw him a line to secure him until the Coast Guard Rescue Vessel promptly arrived.
Thank you Mark and Paul for your quick thinking and maritime expertise.