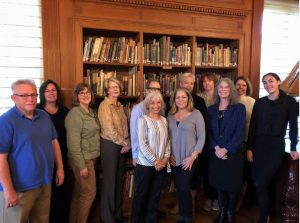 Since its inception, the TRHP vision has been to engage the public with programming and events that promote heritage and culture. With a host of historic and cultural sites in the park we have a plethora of opportunities to build the Park experience through collaboration.
We are now doing just that. Seventeen historic, cultural and heritage sites in New London and Groton have signed on as TRHP Partners to collaborate on programming, events and a host of initiatives to create a Park experience that is diverse, robust, memorable and fun for the whole family. There are two categories of TRHP Partners: Site Partners which have a heritage or cultural location within the Park open to visitors, and Institutional Partners which are committed to preserving and promoting our culture and history which may not have a site such as historic associations, "Friends" organizations, and educational institutions.
Here is the list of those who have signed on as TRHP Partners that will work together to develop and promote a TRHP experience that will attract a broad audience to the region. You'll be hearing a lot more about this collaboration as programming efforts take shape.
[div class="one-half first"]
INSTITUTIONAL PARTNERS
Groton Bank Association
Maritime Studies Program, UCONN,
Avery Point
New London Landmarks
NL County Historical Society
Sea Grant
SECT Cultural Coalition
[/div][div class="one-half"]
SITE PARTNERS
Anna Warner Bailey House
Avery Copp House
Bill Memorial Library
Ebenezer Avery House
Fort Griswold Battlefield State Park
Fort Trumbull State Park
Garde Arts Center
Hempsted Houses
Lyman Allyn Museum
Monte Cristo Cottage
Nathan Hale School House
Submarine Force Museum/USS Nautilus
Subvets Memorial[/div]