UPDATED 11.30.15: As of 10:39 am, the boats were crossing the Tappan Zee bridge. This means they could arrive in New London as early as 1:00 pm.
On November 24th, Transition Team member and Communications Committee Chair sent this press release out to local media. Woo-hoo!
WATER TAXI BOATS TO BE DELIVERED MONDAY
Two Navy launches will make their way up the coast – on land – to Crocker's Boat Yard in New London on Monday to become the first fleet to provide water taxi service in the Thames River Heritage Park.
Joule Yacht Transport of Clearwater, FL, which specializes in long-haul boat transfers, will be transporting the boats from a holding facility in Millstone Township, NJ with arrival estimated at 2:30 PM. Crocker's has donated both indoor and outdoor storage space to the Heritage Park Transition Team to keep the boats sheltered for the winter and provide space for the hulls and engines to be prepared for service in the spring.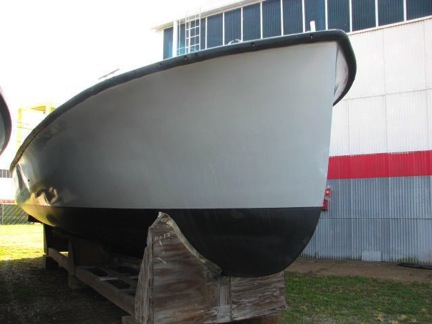 The journey to become part of the Heritage Park has been long and challenging. Along with Groton City Mayor Marian Galbraith, Transition Team volunteer Capt. Mark Jalbert, retired Navy diver and currently a contractor at Electric Boat, was instrumental in pursuing and securing the boats, clearing multiple hurdles, including a disabled lift that threatened to make it impossible to meet the Navy's deadline of two weeks to remove the boats from the storage facility.
Just as the Heritage Park itself, the boats have interesting histories. One of the boats was assigned to the USS LaSalle, which in 1988, while in the Persian Gulf, assumed the role of Commander of Middle East Forces. The other boat was assigned to the USS Hunley, a submarine tender homeported in Charleston, South Carolina servicing the nuclear powered Polaris submarine fleet. The transportation service within the park will thus reflect the area's military heritage.