The Day published a great article today on the Water Taxi Planning Sub-Committee's successful activities over the past few weeks, and you can read it on line with a subscription. Navy Vessels Sought For Water Taxi, by Judy Benson.
With the help of Transition Team Member and Groton City Mayor Marion Galbraith, John Mathias of NAVSEA sent the City's request for two utility boats to the Defense Logistics Agency Disposition Services of Norfolk with the strong recommendation that DLA consider the request favorably. This is a huge step towards final approval of the boats, which have been in storage for 11 years and will need a marine survey before being transported to an area marina for retrofitting.
It is the Team's plan that sometime in the future the City of Groton will turn over the boats to the new non-profit that will be formed to oversee the Thames River Heritage Park's operations. In the meantime, with the fiduciary help of the Southeastern Connecticut Council of Governments, of which Chair Jim Butler is a member, and promised allocations by the participating municipalities, the boats will undergo the first stages in their outfitting and storage in preparation for the 2016 season.
As we mentioned in previous posts, the legislature has also awarded the TRHP and its Transition Team $100,000 annually for two years; much of this allocation will go towards the water taxis and their eventual operation, and the Water Taxi sub-committee is already in discussions with a potential contractor who is well-known, experienced, and respected in the area and would be responsible for all aspects of the taxis' operation. Together with this contractor the sub-committee is putting together a list of costs and plans that include keeping the boats as close to their original design as possible, so visitors can travel between historic sites on a true Navy utility boat. Very cool.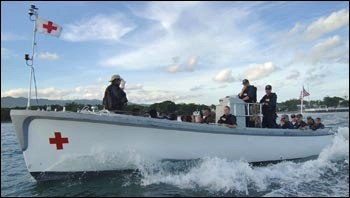 At Wednesday's second meeting of the entire Team, the Organization sub-committee put together a tentative timeline that emphasized the need to definitely have preliminary operations in place by next year, and an established 501 c 3 agency and Board of Directors in place by Memorial Day. We all agreed there was a lot of work to do before then, but we're going to try and keep as close to this schedule as we can, and by the next summer season we'll be handing the reins over to the permanent agency overseeing the Thames River Heritage Park. How exciting!