The Communications Committee of the Transition Team met with Thames River Water Taxi Captain Jackie Dietrich last week, as we went over scheduling and pricing plans for the summer. The Water Taxi should be taking its "maiden voyage" on June 10th, and depending on passenger interest they'll be adjusting their pick-up and drop-off schedule as the season progresses. But expect it to run from Friday to Sunday starting at 10AM and going till 9PM. One "loop" of the sites takes approximately an hour.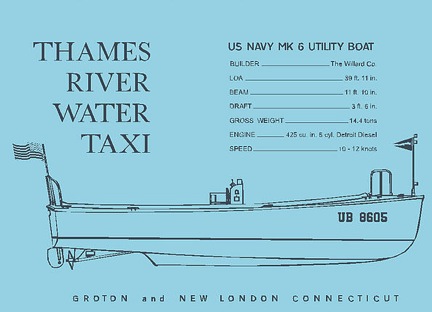 Here's a link to their schedule page.
One of the ways in which we hope that the public (that's YOU), the heritage sites, and local businesses help us with as the summer progresses is by providing as much feedback as possible. This is the first Heritage Park in the state, and all of us are on a shakedown cruise—no one has done this before. We need your suggestions, comments, questions, concerns (praise is good too) on anything you can think of: park accessibility, hours of operation, water taxi issues, prices, signage, access to businesses, information services, transportation, lack of ice cream vendors . . . anything you can think of, let us know! We want to make this Heritage Park a success for everyone.
You can use the comments section of this blog, or visit our Facebook Page, or write write to us at [email protected].