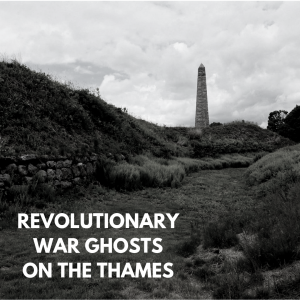 Ghostly sightings are known to take place in darkened houses and hallways, or places shrouded in mystery on dry ground. But the Thames River Heritage Park is adding a new watery twist to that old truism.
With its latest themed tour, Revolutionary War Ghosts on the Thames, the park's water taxi will take those who dare on a ride to the other realm.
In making the announcement, Amy Perry, the park's executive director, said her group has partnered with an organization that knows something about presenting paranormal adventures, the Mystic-based Seaside Shadows Haunted History Tours.
"We're excited to have joined forces with Courtney McInvale Reardon and her talented team at Seaside Shadows to take us on this haunted tour" Ms. Perry said. "In a season of firsts for us this tour will be special and we think people will agree with us."
Tickets for the 90-minute tour scheduled to leave City Pier at 6:45 p.m. on Sept. 6, a Friday, are $25 and can be purchased here.
Adding another eerie element to the tour: it will take place on the 238th anniversary of Benedict Arnold's notorious burning of New London and the massacre at Fort Griswold across the river. Water taxi riders will travel back in time along the route of the Red Coats as the tour guide shares the haunting tales of 1781 and the spirits that roam the port cities to this day.
Names that may come back from the past in the ghost stories will focus on people of note with local ties during the Revolutionary War. The spirits of Nathan Hale, Stephen Hempstead, Lucretia Shaw and of course, Benedict Arnold himself just might be riding along for the evening program.