TRHP Transition Team member and Communications Committee Chair Penny Parsekian, reporting from the "front lines" of the New London St. Patrick's Day Parade today, where the water taxi float carried many members through the streets to greet its adoring public:
"Dave Crocker [of Crocker's Boat Yard, where the water taxi is stored] did an awesome job bringing the boat to the parade. He has a motorized platform with little waves alongside, so we looked like a real float! Our boat was probably the largest thing in the parade, and riding high in the cockpit, we had a good view.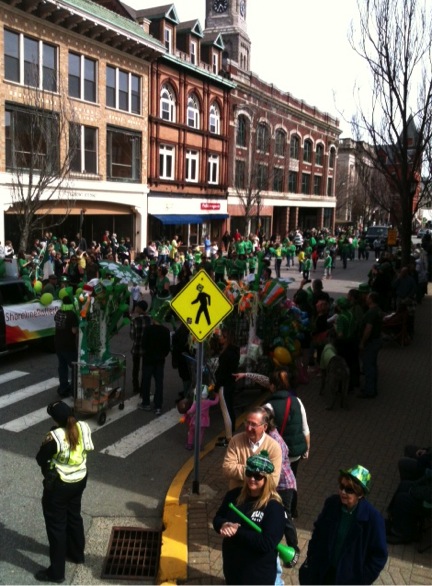 Marian [Galbraith], Chris [Cox], Brent [Eugenides] and his wife Robyn, Joe [Selinger], Deborah [Donovan], Mark Jalbert and I, and husband Geoff, plus some folks from Dave's operation, made a good showing.
Dave brought along hats and beads and foil wrapped chocolate coins to toss, so we all looked the part, though we refrained from tossing to follow the parade rules. Crowds lined Bank and State streets and cheered the water taxi. At the official reviewing stand, with the mayor and other officials, we were announced and praised for our good work.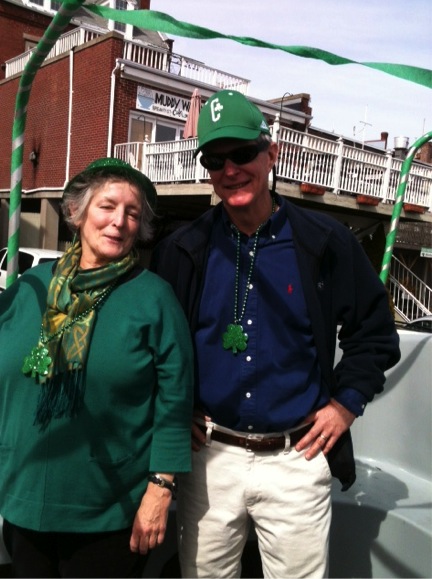 Marian got the water taxi signs from the Avery-Copp House, and they were secured to the sides and the back of the boat, so everyone knew who we were. We have now officially launched the marketing campaign!"