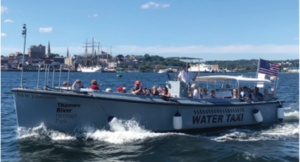 On behalf of the Thames River Heritage Park Foundation board, program committee, and staff, thank you for completing the evaluation for the recent lecture in the Stories from the Park series. Your feedback is greatly appreciated and will be used to enhance future programs. For those who included contact information on the form, two (2) complimentary hop-on, hop-off 2023 harbor cruise tickets in your name* will be available on the water taxi for you to pick up at your convenience and use at your pleasure.
This program was made possible thanks to the generous contributions from our grantors – especially CT Humanities and the Community Foundation of Eastern CT, sponsors, members, and people like you whose support helps to fund this lecture series, the new Docent Academy, historic narrated boat and walking tours, harbor cruises along the Thames, and other programs like this one.
The Foundation relies heavily on support from people like you in order to provide the quality programs and services that connect, promote, support and sustain Thames River Heritage Park – a collection of heritage sites which capture the history and culture of life along the Thames River. Please support the Foundation. Donate today!
We look forward to having you join us for the rest of the series, the Docent Academy, and the upcoming summer season on the Thames. In the meantime, if you have any questions or suggestions, please feel free to reach out to me.
Kind regards –
Catherine Foley
Executive Director
[email protected]
(860) 444-4401
* Complimentary tickets are limited to 2 per person.