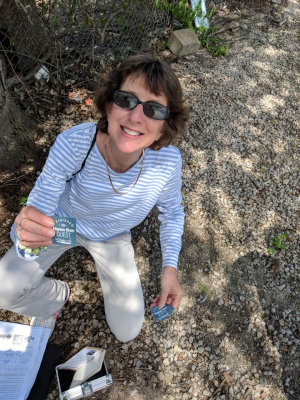 In collaboration with Sea Grant and with support from The Day the Thames River Quest – the first undertaking of this kind for the Park – held Saturday, June 2nd was an outstanding success with approximately 150 participants enjoying three scavenger hunts located at each taxi landing site.
Friends and families put their heads together to follow the word clues leading to the final prize. Most, if not all, of the participants rode the water taxi, which was free between 10 am and noon, in search of another quest. Participants who sent in a photo showing they completed the quest or who made a journal entry at the final location were entered into a prize drawing. June's prize – a TRHP custom ornament generously donated by Flavours of Life – went to Heidi DeCosta. The Quests are self-guided and can be easily followed by kids ten and older along with a supervising adult. You can download them here.
On Groton Bank Day, Saturday, June 9th, which coincided with the Annual Family Festival at Waterfront Park, over 850 people rode the water taxi courtesy of Electric Boat's sponsorship. That number represents our boat filled to capacity between 10 a.m. and 4 p.m. It was pretty exciting to witness.