Lots of good news to share with you in the first quarter. We have just published a small test run of the Heritage Park Map & Guide. Please click here to view the Map & Guide. Now we have proof of the heritage riches of our area!
The most exciting news is that in mid-February we received a number of excellent proposals from prospective water taxi service providers and will be selecting an operator shortly. This means the water taxi will be running this summer! Please visit www.thamesriverheritagepark.org for the schedule, which will be posted soon.
We are readying the boats for service, including USCG inspection and outfitting. Please let us know if you are interested in contributing any of the required equipment, and we will send you the list of what we need. Help us boot strap this operation!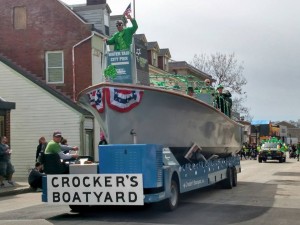 Thanks to Dave Crocker we kicked off our marketing campaign in the New London Saint Patrick's Day Parade.
Also, look for our ad (shown to the right) in Mystic Country magazine created by Rita Rivera, and another one in the summer issue of Connecticut Explored, the magazine that history lovers use to plan their day trips. [clear_both]
Perhaps less exciting, but equally important, the Transition Team approved mission and vision statements and received its incorporation papers in February. The new entity will be called the Thames River Heritage Park Foundation and will be tasked with working with its partners to complete and develop the park. The Team recently approved a set of bylaws for its nonprofit application, which will be submitted in April.
Finally, tonight the Yale Urban Design Workshop will do a special presentation at the Garde Arts Center Oasis Room targeted to the heritage sites within the park and the host municipalities. Ninety-three staff and board members from the various heritage sites and town officials have signed up to attend. The Day and Atlantic Broadband are sponsoring the event, which will be taped for wider distribution. At this meeting we will debut our new Map & Guide, which The Day will publish at a later date in the paper and create a smart phone friendly version with live links to all the sites.
Forgive us if you receive more than one of these, and let us know if you do, or if you want to be removed from the list. For the rest of you, we promise to keep you posted.
Thank you for your interest in this project, which we believe has transformative potential for our area.
Penny Parsekian, Chair
Transition Team Communications & Programming Committee
Thames River Heritage Park