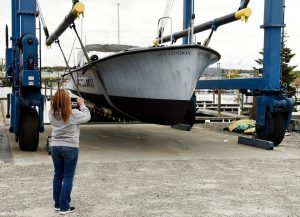 We are in countdown mode for launching our second Water Taxi season at the Park. Getting ready for the season has been a master class in coordination and collaboration.
Starting with the boats. As anyone who owns a boat knows (or smarter yet, anyone who has a friend with a boat) they require a lot of maintenance and attention. With two boats operating this year that's twice the care. That said, with our first trial run of the season behind us hosting CT Innovations last week, we are primed to launch Friday, the 26th at 10 a.m.
The boats have NEW awnings and NEW sound systems to make the ride enjoyable and informative. We are collaborating with local experts and our partner heritage sites to host tours on the Water Taxis, some of which are listed in our NEW Events calendar with more to come. The first will be hosted by Deborah Donovan, Treasurer of New London Landmarks and past President of the New London County Historical Society. "Four Centuries in 90 Minutes" will be leaving from City Pier on Thursday, June 8th at 6:30 p.m. It's $30/pp and sure to sell out. Get tour details and tickets here.
There will be weekly sunset and daytime cruises, too. Grab some friends, pack a snack, your favorite beverage and get out on the water in an historic naval vessel.