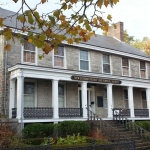 The Shaw Mansion is a historical home built in 1756. Captain Nathaniel Shaw hired French refugees from Nova Scotia who had recently arrived in New London to construct his granite mansion overlooking the Thames River. Twenty years later Captain Shaw and his family hosted General George Washington, who was moving his army from Cambridge to New York in April 1776, via New London. Shortly thereafter, Nathaniel Shaw, Jr., a major revolutionary and First Selectman of the city, was named as Naval Agent for Connecticut. The Shaw Mansion became a naval headquarters for Connecticut's state navy and was one of the few structures near the harbor to survive the British attack on New London led by Benedict Arnold.
The house stayed in the Shaw family for  five generations, inherited by a great-granddaughter of the builder in 1795, Lucretia Shaw Woodbridge. It briefly became the Perkins house by her marriage to Judge Elias Perkins and became the headquarters of the New London County Historical Society in 1907.
In addition to the many historic pieces on display in the Shaw Mansion's exhibit hall, it boasts one of only fourteen American flags that can be traced back to the time of the Revolutionary War.
Address: 11 Blinman St New London, CT 06320
Distance from City Pier Water Taxi Landing: 0.4 Miles
Phone Number: 860-443-1209
Hours: The Shaw Mansion is open to the public Thursdays 12 – 4 for tours. Research by appointment only. You can also arrange special tours by emailing info@nlchs.org.
Admission: $10
Website
Facebook