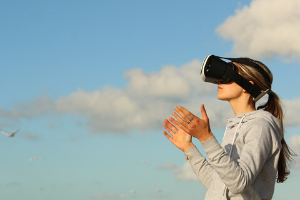 Date/Time
Thursday, November 14, 2019
5:30 pm - 6:30 pm
Location
Bill Memorial Library
website
Are you curious about virtual or augmented reality? Come to our Virtual/Augmented Reality Workshops at the Bill Memorial Library in the City of Groton, CT on Thursday, November 7th, November 14th, and November 21st at 5:30 p.m. Teens in grades 6-12 are invited to learn about virtual and augmented reality using apps and devices.
This event is free for all teens and participants are encouraged to bring a smartphone or tablet if they have one. If they do not, we will have a few extra devices for in-library use. Registration is required. Please call the library at (860)445-0392 to reserve your space.
Library hours are Monday, Tuesday, and Thursday, 10:00 a.m. to 8:00 p.m., Wednesday and Friday, 10:00 a.m. to 5:00 p.m. and Saturday, 10:00 a.m. to 3:00 p.m.
The Bill Memorial Library is located at 240 Monument Street in Groton City, near the Groton Monument and Fort Griswold. The library, now almost 130 years old, has an extensive collection of books and media for children, teens, and adults, including downloadable eBooks, audiobooks, museum passes, and discount tickets. Visit our webpage at http://www.billmemorial.org. Find us on Facebook at Bill Memorial Library.