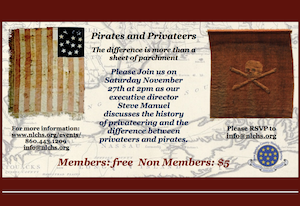 Date/Time
Saturday, November 27, 2021
2:00 pm - 3:30 pm
Location
New London County Historical Society – Shaw Mansion
website
Often privateers are described as legal pirates. This is an oversimplification of a complex system, and does not take into account motivations of the people who engaged in these activities. Learn the difference between a pirate and privateer, and how these groups of individuals impacted the maritime community.
Presenter: Steve Manuel, Executive Director, New London County Historical Society
Members: Free / Non-Members: $5
Please RSVP to info@nlchs.org if you plan to attend the discussion.