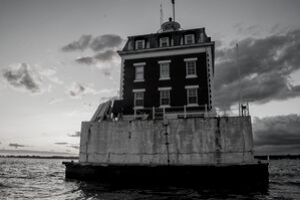 Date/Time
Sunday, October 13, 2019
5:45 pm - 7:15 pm
Location
City Pier

$35
Join us for a frightening night on the Thames River of New London and Groton, CT! For this premier ghost tour of it's kind, on the Full Moon before Halloween, guests will embark on a journey via boat on the waters of the Thames River. Waters are said to increase haunting activity — and port cities such as New London and Groton are filled with ghosts of the past whose stories were lost to time and to the seas.
Focused on the dark and true history of shoreline, CT — we journey through the Thames' macabre past. Diseases once spread this notorious region — those who died at sea were left buried on the shores, quarantines were set up by lighthouses and a notorious sanitarium was built down the river in the years to come. Notorious battlefields and military forts line the shores– hero Stephen Hempstead and traitor, Benedict Arnold have both been seen in spectral form. And what of our school teacher and spy, Nathan Hale? What of the young and old who died from disease and neglect? From Battlefields to Sanitariums, Injuries to Ailments, Lighthouses to Burials at Sea — Join us for an evening you won't soon forget as we make our way down the river and into the sound in search of southeastern CT's most notorious ghosts.
We do hope those lighthouses and moon will provide enough light to see the spirits heading your way. The only Seaside Shadows ghost tour this season via VESSEL — hopefully no creatures from the deep emerge and prevent a future journey. Because hey, rumor has it Captain Kidd sailed by these shores and he may have left his treasure behind….. This will be a 90-minute haunted history tour from Seaside Shadows.