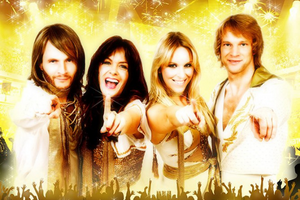 Date/Time
Sunday, March 6, 2022
7:00 pm - 8:15 pm
Location
Garde Arts Center
website
ARRIVAL from Sweden: The Music of ABBA has all the features a great ABBA show needs: lovely costumes, extremely talented musicians and breathtaking singers.  Millions of people all around the world celebrate this show as the closest you will ever get to see ABBA!
ARRIVAL from Sweden was founded by Vicky Zetterberg in 1995 in Gothenburg, Sweden and very soon became one of the world's most popular ABBA show bands.  The band has sold out arenas and theaters in 60 countries, including 58 successful tours in the USA.
ARRIVAL from Sweden's  production of  "The Music of ABBA" is the most authentic ABBA show there is. Hits like: "Dancing Queen",  "Mamma Mia",  "Does Your Mother Know",  "Take A Chance", "SOS", "The Winner Takes It All", "Super Trouper", "Money Money Money", "Waterloo", "Honey Honey", "Fernando", and many more are delivered with such accuracy that it's hard to believe that it's not the real ABBA on stage.
ARRIVAL from Sweden is the only group that has been given a previously unreleased ABBA song – "Just A Notion" – directly from Björn Ulvaeus and Benny Andersson of ABBA.  They have also played with more than 60 symphony orchestras throughout the world, such as Boston Symphony Orchestra, San Francisco Symphony Orchestra, Dallas Symphony Orchestra, Houston Symphony Orchestra and Atlanta Symphony Orchestra.