Date/Time
Saturday, October 14, 2017
2:30 pm - 6:00 pm
Location
Cross Sound Ferry Pier
Chance and Change: How Defense Efforts on Home Shores
During WWI Impacted the Newly-Formed Coast Guard, 1915-1925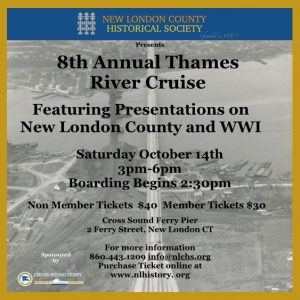 On the 28th of January in 1915, President Woodrow Wilson signed "Act to Create the Coast Guard," merging the U.S. Life-Saving Service with the U.S. Revenue Cutter Service. The act formally designated the new "Coast Guard" as a military service. Though a military service, Coast Guard was placed under the jurisdiction of the Treasury Department. April 6th 1917, the United States declared war on Germany and the Coast Guard was moved to the Department of the Navy. The unique situation presented many challenges for the fledgling service. Their duties at home and abroad during the war varied significantly. Ranging from providing landing parties to support powder seizure from the Germans, to continuing their life saving and coastal protection mission.
During the Cruise, Jennifer Gaudio, curator of the Coast Guard Museum, and Scott Epperson are speaking of the Coast Guard Mission in New London in conjunction with the light houses in Long Island Sound. Our guests will discover the trials of a service members asked to serve during the war without the typical training given to military personnel. In a time of great need the Coast Guard stepped up and provided a crucial service to our country. The lectures will be given twice during the cruise allowing our guest multiple opportunities to listen.
Often our passengers just enjoy the cruise from the outer decks because the fall foliage is always spectacular during the event. There is a craft workshop is available for kids, A wine tasting by big Gary, a silent Auction and more. The Daniel Packer Inne is providing light fare for the duration of the cruise.
In keeping with our mission, the NLCHS creates events and programs that explore the robust history of Southeastern Connecticut and presents them in an informative and entertaining fashion.
The ferry departs Cross Sound Ferry Pier on Saturday October 14th at 3pm. Boarding begins at 2pm. Tickets are available at www.nlhistory.org, or by calling the NLCHS direct.
"to inspire residents and visitors to appreciate the county's past and draw upon its rich heritage to understand the present and imagine its future."
New London County Historical Society
11 Blinman Street
New London, CT 06320